Resta Cream| Uses, Side effects, Ingredients and Price
In the winter season, most people face problems like dry skin, scalp, cracked feet and hands and skin marks due to dryness. There are a lot of solutions to these problems but mostly each problem has its separate solution. Resta cream basically provides the single solution to all the problems that we discussed earlier. In this article, we will now discuss the features, directions to use, side effects and ingredients of resta cream. So, make sure to go through this article for better understanding and procedures of applying this cream.
What is Restsa?
Resta is basically a moisturiser cream and lotion that helps the user to get rid of dry skin and many issues related to it. The cream is applied on the skin that is dry and it settles down on that skin and slowly absorbs into the skin to provide a long time moisturising effect. This cream can heal major issues like skin problems associated with renal and diabetic problems. The moisturising effect of this cream stays long and the person can feel comfortable instead of itching the skin due to dryness.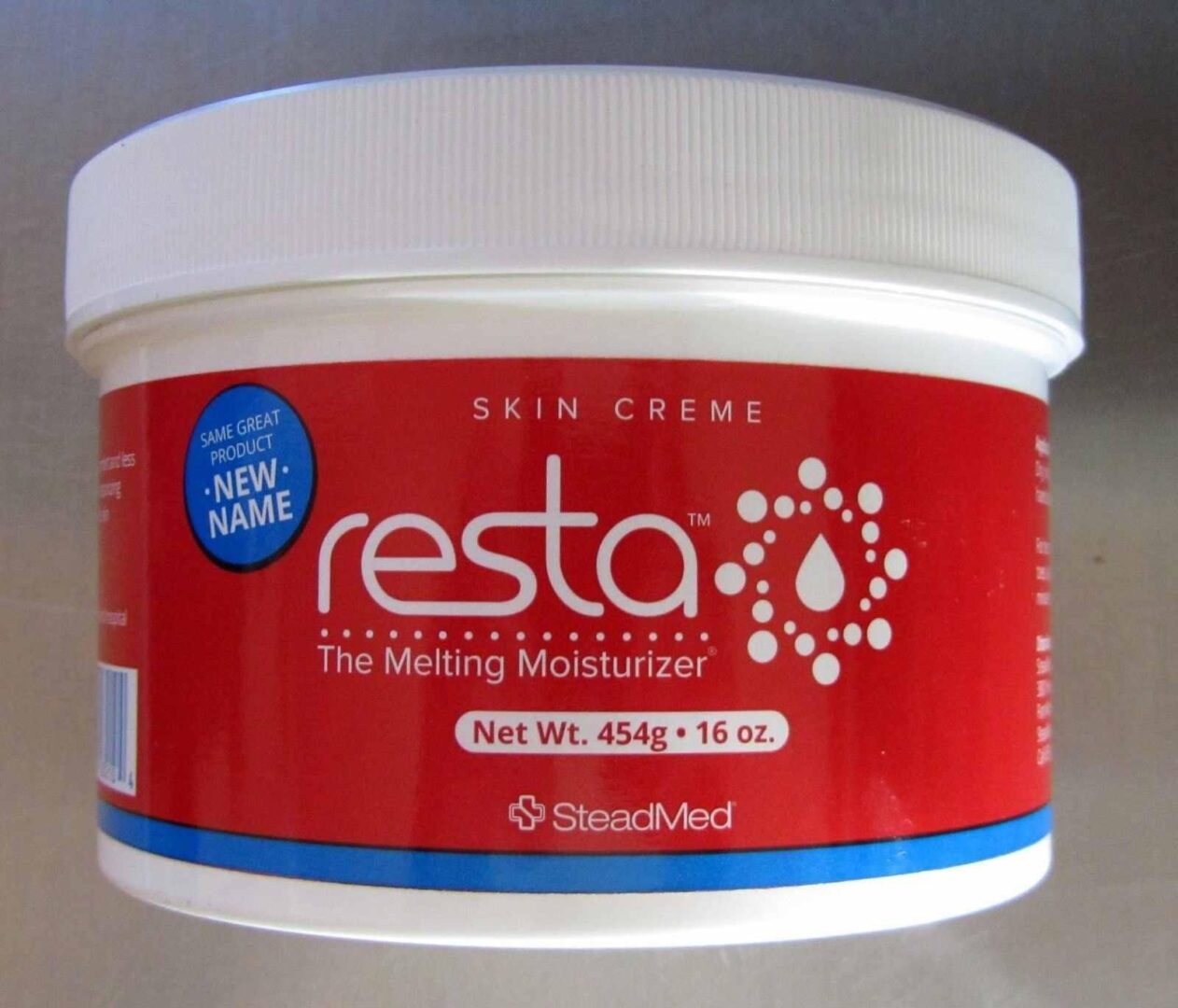 Product Description:
| Brand | SteadMed |
| --- | --- |
| Product | Resta cream |
| Use For | Whole Body |
| Skin Type | Sensitive |
| Scent | Unscented |
| Weight of jar | 454 gram or 16 oz |
| Ratings | 4.5 / 5.0 |
| Price | $28.28 (Amazon) |
Ingredients of Resta Cream:
Resta cream consists of different chemicals and products that sum up to create this cream. The major ingredients of this cream are;
Mineral Oil
Copolymer
Paraffin
Petrolatum
PVP Eicosene.
These ingredients have different functions that they perform when you apply this cream to the cracked or dry skin. All these ingredients work together to cope against issues like dry skin, cracked feet and hands, symptoms of dry, itching skin and other skin problems.
Features and Uses of Resta Cream:
Following are the key features and uses of the Resta cream that make it one of these best moisturising cream and lotion.
Dry Skin Due to Diabetes:
Resta cream is perfect for applying on dry skin. This dry skin is due to many reasons. One of the main reasons is Diabetes.The diabetic patient often faces the problem of dry skin because of his medications and disease. This cream or lotion is best for them. Because there are no side effects of this cream on applying the skin of a diabetic patient. Normal moisturising creams can harm the skin of the patient if not consulted with doctors and dermatologists. Therefore, it is necessary to apply this special cream for the dry skins not only due to diabetes but also for renal issues. You can further apply this cream on cracked skin of the feet and hands. The cream has the ingredients that absorb in the skin and gently reacts with the dry skin to provide a moisturising effect.
Skin Burns:
There are special creams and lotions that you have to apply on the skin burns. Therefore, you cannot apply the normal lotions on the skin with burns on it. In this case, Resta cream is best because you can apply it on the skin no matter if it has burn marks or not. You do not have to be careful of burns, So, you can apply this cream on the burn marks. This lotion or cream does not have the side effects on such burnt skins.
The burns are also of different types and degrees. There are a few creams that are particular for the 1st degree and 2nd degree burns.In case of resta, you can apply this lotion for cream on both degrees of burns. further if the skin is prone to sunburns you can apply the screen on the skin without any hesitation.
Wound Care:
This cream basically lubricates the skin which has received the wounds. It helps the skin to recover quickly by boosting up the killing process of germs. Furthermore, Resta cream has the ingredients that basically loosens the non-viable tissue of the wounded skin. On applying the lotion or cream, it also protects the periwound area around the injury. Moreover, it helps the skin under zinc compression boots & compression therapy. It means, it is not only a normal lotion or cream for normal usage, but also doctors recommend it to use on different wounds and scars due to the injury.
Radiation Oncology:
When the patient goes through various operations in which radiation is involved, their skin becomes very tender. Because the radiation kills the tissues and cells of the skin. These radiations have high penetrating power that damages the skin. Therefore, doctors recommend special creams and ointments for the recovery procedure of that skin. But resta cream has no harm and damages the skin. Doctors also recommend this lotion after the radiation oncology.
How to Apply Resta Cream:
The applying procedure of resta cream is very simple. First of all, moisten the skin where you want to apply this lotion or cream. This can be done by applying water on that skin or simply taking a bath. Then, you need to apply he resta cream over that skin. The moisture and cream mix properly and the creams absorb quickly. Many moisturisers evaporate after applying them on the skin. But in the case of this cream, the moisture stays on the skin and gives best results. The normal moisturisers are made up of water therefore, they evaporate but resta cream ingredients are different.
If after applying the cream, you feel the skin is greasy or oily it means that you have applied more cream. Your skin cannot absorb that much cream. So, you can remove the grease or oil by a tissues dn avoid applying that much cream next time.
Always apply small amounts of this cream at any time to the risk area, but should ideally be applied after washing or hydrating and at bedtime. In this way cream traps the water and keeps the skin fresh and glowing for a longer period of time. For best results, you should apply twice daily and let the skin soak the cream or lotion.
Benefits of Resta Cream:
Following are the key benefits of the Resta cream.
It is a great ointment cream that does not have a sticky residue.
This cream can provide more than 12 hours of effectiveness.
It has an economical price that is in everyone's budget.
You won't face any type of sensitivity after applying this resta cream.
This cream can protect your skin against damages from frequent hand washing, swimming, and cold dry air.
You can use it as a night cream because it is safe around the eyes for removing waterproof makeup and for treating eye dermatitis.
Whenever you apply this cream, it quickly melts down on your skin.
The ingredients in this cream get absorbed in the skin easily.
The cream has a longer effect because of its deep penetration power into the skin.
This cream does not have any effect on the clothes or garments.
Side Effects of Resta:
There are a few side effects of Resta cream that we will now discuss in short details.
The side effects of this cream are very limited. There are different types of skins and it can provide a moisturising effect to each type of skin. But it may also cause irritation and allergic effects on the skin. This cream is still very sensitive to different skins and can cause itching. You need to avoid its contact with your eyes because it will create great irritation and damage to the eyes and other sensitive parts of the body.
FAQs
What is resta cream used for?
This cream is basically used for moisturising the dry skin and gives a shiny glow to the skin. Furthermore, you can use this cream on every type of skin, whether skin burns, laser penetrated skin, rashes or itching skin also. There are very limited side effects of this cream.
What are the ingredients in Resta cream?
Following are the ingredients of this cream.
Mineral Oil
Copolymer
Paraffin
Petrolatum
PVP Eicosene.
Who makes Resta cream?
A famous brand Swiss American Products Inc. manufactures the Resta moisturising products like lotion and creams. Swiss-American Products Inc. runs on the principle that the use of medically accepted products in daily skin care can help solve and prevent a wide range of skin and wound problems.
Final Thoughts:
Resta Cream is a great ointment that can be used on various types of skin for moisturising and glowing. This cream has multiple benefits like it is economical, provides long time moisturising, easily available and is applicable on various types of skin. We also discussed the directions of using this cream on the skin. However, there are very limited side effects of this cream too with certain types of skin.