Cleanpod UVC sterilizer Review: Working, Uses & FAQS 2023
Covid-19 has caused us to take the germs seriously and keep ourselves safe from these lives threatening germs. To stay safe from these germs, one should be looking for a device that can kill them. cleanpod UVC sterilizer is an amazing device that destroys germs. What is a cleanpod UVC sterilizer? How is this cleanpod UVC works? What are the benefits of a cleanpod UVC sterilizer?
This article will help you have a thorough study of the cleanpod UVC sterilizer.
What is a cleanpod UVC sterilizer?
Cleanpod is an essential tool for protecting yourself against the invisible germs that linger on everything you touch at home or outside. With the press of a button, the specialized LEDs emit a high-energy beam of UVC (ultraviolet C) light, effectively sanitizing surfaces without the use of chemicals. UVC light has the ability to kill up to 99.9% of germs in 30 seconds. Cleanpod LEDs, unlike traditional UVC lamps, contain no mercury and turn on immediately without any warmup time – and they're precisely engineered to output UVC light at peak germicidal wavelengths. This device is eco-friendly and better than Clorox.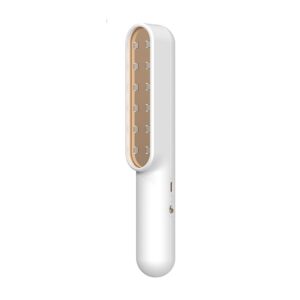 Kit of cleanpod UVC sterilizer
The cleanpod UVC sterilizer kit includes the following items:
Charging cable
Wristband
Carrying bag
Detailed instructions
Safety instructions for cleanpod UVC sterilizer
The user manual includes numerous safety instructions, such as:
The cleanpod UVC sterilizer light is damaging to the skin and eyes.
Do not put the product in the fire because it may explode.
Do not use the cleanpod UVC sterilizer in a humid environment (e.g., bathrooms), as this may cause short-circuit damage.
Stop charging immediately if the product becomes abnormally hot or deformed while charging.
How does the cleanpod UVC sterilizer work?
Cleanpod UVC sterilizer uses UV-C light technology to destroy the DNA of bacteria and germs, rendering them harmless. For many years, hospitals, laboratories, and other healthcare facilities have used UV-C light to disinfect surfaces and machinery. Cleanpod UVC sterilizer provides consumers with the same technology in a convenient and cost-effective bundle.
Simply place the object or surface to be sterilized over the Cleanpod and press the sterilization button. Move the device back and forth for a few seconds to ensure that the UV-C light covers the entire area. UVC sterilizer can clean almost any surface, including phones, computers, doorknobs, toys, and more.
Features:
It is a portable device
A safety lock switch is included.
Sanitization without using chemicals
Eco-friendly replacement for disposable wipes
Mercury-free
Dimensions: 1.3″ x 1.5″ x 8.6″
no need to warm up
5V/1A voltage/current
7W of power
Product weight: 270g
USB-C interface
20 mW optical power
2000 mAh battery capacity
Time to charge: approximately 2.5 hours
The wavelength of a cleanpod UVC sterilizer is 265-275 nm.
400 nm UVA LED wavelength
ABS and PC are the materials used.
Product dimensions: 219 34 40 mm
The standard is GB19258-2012
Uses of cleanpod UVC sterilizer
Depending on the model, the specific instructions for using a Cleanpod UVC sterilizer may differ. However, the following steps should provide a good starting point for using your device in general:
Ascertain that the surface or object to be sterilized is clean and dry.
Turn on the device and make any necessary adjustments, such as the timer, if applicable.
Place the surface or object to be sterilized in a location where the UVC light will be shining directly on it. Keep the cleanpod UVC sterilizer at a safe distance from any humans or animals, as UVC light can be harmful if it comes into contact with the skin or eyes.
Allow the surface or object to be exposed to the UVC light for the recommended amount of time. To determine the recommended exposure time, consult the manufacturer's instructions.
Unplug the device from the power source and turn it off.
To remove any debris, wipe the surface or object you sterilized with a clean, dry cloth.
Clean the device and any removable parts in accordance with the manufacturer's instructions.
What are the advantages of utilizing Cleanpod UVC sterilizer?
Cleanpod UVC sterilizer has numerous advantages over traditional cleaning methods. Here are a few examples:
Chemical-free: Cleanpod is a safe and environmentally friendly cleaning method because it does not use harsh chemicals or cleaning agents.
Fast and easy:  UVC sterilizer allows you to sterilize surfaces quickly and easily, saving you time and effort.
Portable: UVC sterilizer is portable and lightweight, making it easy to use whenever you need it.
Affordable: With Cleanpod UVC sterilizer, you can maintain the cleanliness and sanitization of your environs on a budget.
Beneficial sterilization: UVC light kills bacteria and viruses very effectively. As a result, the Cleanpod UVC sterilizer is a dependable and efficient cleaning solution.
Why We Burrow It
Chemical-free (hurray!)
cleaner in less time than manual cleaning
A traveler's best companion
Greater control over cleaning intimate areas
A mind free of COVIDs
Important factors to consider before purchasing the cleanpod UVC Sterilizer:
When shopping for a cleanpod UVC sterilizer, keep the following factors in mind:
UVC light intensity: Look for a device with a high UVC light intensity. The device will be more effective at killing bacteria and viruses if the intensity is increased.
Timer: Some UVC sterilizers include a built-in timer that allows you to program the unit to run for a specific amount of time. You can check to see if the surfaces or air have been properly sanitized.
Design: Consider the device's size, weight, and portability. It will be more useful if you can carry it with you and use it in a variety of situations.
Safety features: Look for devices with automatic shut-off or other safety features to prevent accidental UVC light exposure.
Price: Compare the prices and features of various cleanpod UVC sterilizers to find one that meets your needs. It should still have the features you require.
It's also a good idea to read customer reviews and look into the manufacturer's warranty and customer service. This will give you an idea of how well a specific device performs. And the manufacturer's responsiveness to any issues that may arise.
FAQ'S
Q: Is it safe to use Cleanpod UVC sterilizer?
A: Cleanpod is completely safe to use. However, it is critical to follow the instructions exactly and keep the UV-C light away from your face and eyes.
Q: How long does it take Cleanpod UVC sterilizer to sterilize surfaces?
A: Cleanpod can sterilize a surface in a matter of seconds, depending on its size.
Q: Is Cleanpod safe to use on all surfaces?
A: UVC sterilizer can used on most materials, including metal, plastic, glass, and fabric. However, it is not advised to use it on flesh or food.
Q: How long does the Cleanpod battery last?
A: Cleanpod UVC sterilizer can run for up to 90 minutes on a single charge.
Conclusion
In conclusion, Cleanpod UVC Sterilizer is a ground-breaking product that offers a quick, low-cost, and environmentally friendly method to keep your surroundings hygienic. Because of its lightweight and portable design, you can take it with you wherever you go and quickly sterilize surfaces. Cleanpod UVC  has arrived to take the place of harsh pesticides. For more info must visit techstarlink.com